Vipul Gupta, a Delhi-based entrepreneur, is the co-founder of a brand that is leading its way into early learning. He has moved from the safe and secure banking environment to the adventurous life of entrepreneurship due to his interest in going beyond the ordinary.
As the name suggests, goDiscover is made with the spirit to go and discover. It's a young company with the vision to surprise and delight every child with meaningful products. Being a parent himself, the world of early learning has been an internal & external journey for Vipul but what makes him extraordinary is his application of age-old business ethics to the new times we are living in. In an era where a business is initiated on raised funds, Vipul has held his ground to building a company on revenue from day one.
goDiscover books are developed on the premise that at a young age when children cannot read and write, they must have multi-sensorial experiences to stimulate them into a learning environment but it shouldn't be mobiles and screens. Vipul, along with a dear friend and business partner Sonia, started the journey of creating India's first and consistently exceptional early learning books for 2-10-year-old children.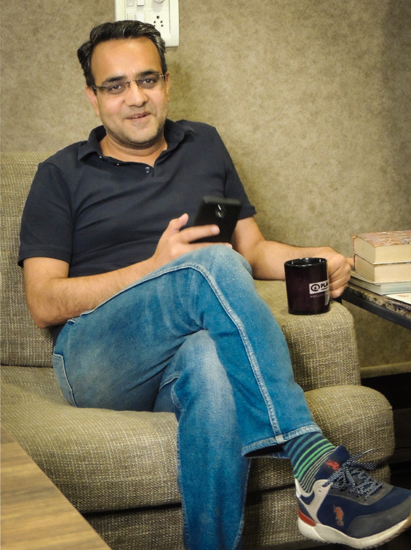 Their slogan of 'keeping kids off the mobiles and screens' saw the sunshine when the pandemic hit the world and each parent was forced to see their children on screen for several hours beyond their acceptable limits. The multi-sensorial books that 'talk' with the child are loaded with almost the never-ending content beautifully composed by goDiscover. Children touch the interactive pen that comes along, to any part of the book and magic starts to unfold. They can hear information, sounds, trivia, and more and can also record their own voices in response to what is being communicated. This is an innovation par excellence that uses the technology to keeps the basics of childhood intact without causing any short or long-term harm in any way.
Together, Sonia and Vipul almost worked overnight on creating the interactive books as an experiment, and seeing the lovely set of books in their hand, the idea of goDiscover was born. This was many years back but what is noteworthy is the set of values that thrive in this small organization made with extremely passionate learners themselves. The bond amongst the team is addictive and reflects in the books they make together.
It is said that leadership reflects in the team and the products that the team makes. With that being true, Vipul is at the top of his game to lead and create an organization that shines with integrity, values, strong bond, and ethical products for our young ones who are the future.
As he says 'we are blessed to be able to create an organization driven by values and fundamentals of human consciousness', Vipul is himself a keen learner and likes to read on every topic that he can lay his hands on. His worthwhile time of life is to engage in meaningful conversations emerging from what others have read or experienced in life. Passionate about numbers and conscious about impact, Vipul is charting a new way that India will see its toy market in times to come.
We wish Vipul and his team all the best for the future.