When Tech Meets Ultimate Care:
How many times have you heard that technology has advanced and transformed our health in a better way?
Indeed, it's probably true. A variety of healthcare devices are now available that have assisted in diagnosing difficult diseases and saved many precious lives.
So, why not in the case of the miracle of bringing up a new life in the world?
IVF is just one such technique to give couples the overwhelming joy of becoming parents !!
It's rightly said, "Sometimes it takes science to make miracles happen."
About Dr. Gajendra Singh Tomar:
Dr. Gajendra Singh Tomar is a leading and renowned IVF and Infertility Specialist in Indore. Currently, he is serving at Indore Infertility Clinic, CHL Hospital as an infertility specialist and consultant gynaecologist . CHL Hospital is located in LIG Square, the heart of the city, of Indore. He is leveraging his 18+ years of experience by using the latest reproductive technologies in the area of infertility and the best treatment plan.
IVF Treatment Specialist in Indore-Dr. Gajendra Singh Tomar
He is an esteemed IVF specialist and obstetrician doctor in Indore.
He always updates himself with the most advanced medical technology and advancements in the field of gynaecology and infertility. He started his career after graduating from MGM Medical College in the year 1993.
After completing his post graduation in Obstetrics and Gynaecology from Surat in 2003, he received gold medal from South Gujarat University for his extraordinary academic performance during the years.
He is proficient in Hindi and English languages. Dr. Gajendra Singh Tomar became a highly skilled and best IVF specialist by obtaining highly specialized training from MRCOG London.
Achievements
Dr. Gajendra Tomar went for further training to England and obtained membership of the Royal College of Obstetricians and Gynaecologists, also known as MRCOG. He also did an M.B.B.S from MGM ( Mahatma Gandhi Memorial Medical College) Medical College Indore.
With a successful track record of pregnancy rates as high as 60 to 65 %, Dr. Gajendra Singh Tomar, IVF Specialist in Indore, has earned a respectable name for himself in a short span of few years.
He is also associated with the Indian Society for Assisted Reproduction (ISAR) and
The Indian Fertility Society (IFS)
Services at Indore Infertility Clinic by Dr. Gajendra Singh Tomar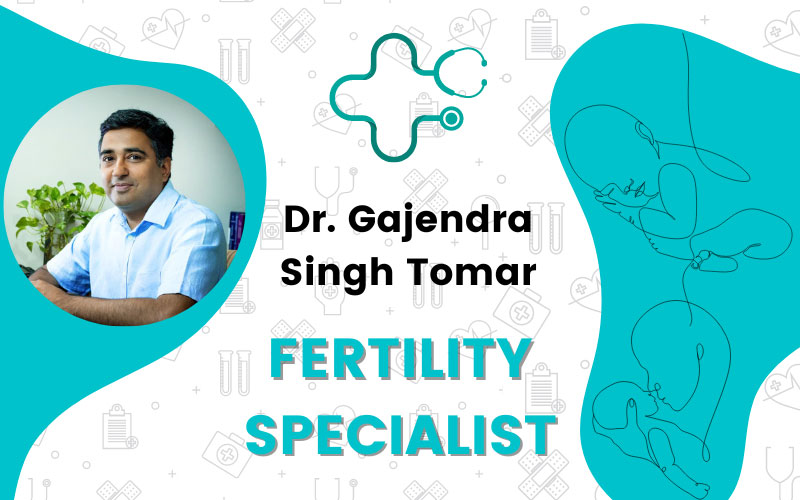 Dr. Gajendra Singh Tomar provides major services to patients related to infertility treatment: treatment for multiple miscarriages, adenomyosis treatment, high risk pregnancy treatment, adolescent gynecological problems, and advanced infertility treatment like.
Intrauterine Insemination (IUI)
Infertility Evaluation and Treatment
Fertilization In Vitro-Embryo Transfer (IVF-ET)
Surrogacy
IVF
IVF ICSI
IUI Donor Sperm
IUI Husband Sperm
Follicular Study
Ovulation Profile
Oocyte (Egg) Donation program
Sperm Donation, Freezing, and Cryopreservation
Embryo Donor Program
Laser assisted hatching
Preimplantation Genetic Testing (PGT)
Chromosomal Abnormality Screening
Embryo Donor Program
Laser assisted hatching
Preimplantation Genetic Diagnosis (PGD)
Chromosomal Abnormality Screening
Egg Donation
Natural Cycle IVF
Artificial Insemination
In-Vitro Fertilization (IVF)
Amniocentesis
Laparoscopy
Hysteroscopy
ICSI
Female Infertility Treatment
Treatment for Male Infertility
Fertility Treatment
Fertilization
Oocyte
Intracytoplasmic Sperm Injection (ICSI)
His Expertise
Dr. Gajendra Singh Tomar is a specialist providing diagnosis and treatment to cure infertility in men and women through procedures like IVF,IUI, ICSI, TESA etc. Below are some of the listed services he is a specialist in :
a)Gynecology & Minimally Invasive Surgery
Our specialized minimally invasive gynecologic surgeons treat women who are facing endometriosis, ovarian cysts, fibroids, abnormal uterine bleeding, scarring, damaged fallopian tubes, pelvic pain, or abnormal development of the reproductive tract. This procedure is less time-consuming and offers patients an alternative to traditional surgery with less pain.
Dr. Gajendra Singh Tomar, our specialized gynecology surgeon in Indore uses laparoscopy and hysterectomy techniques to treat patients.
Laparoscopy surgery lets the doctor look inside the body and do the surgery without opening the body up. The cuts in this surgery are easily recoverable and are less than those done in open surgery.
On the other hand, hysterectomy surgery on
It uses a computer to control surgical instruments.
Embryo Transfer into the Uterus
Embryo transfer is usually a painless process, but for some women there might be a slight abdominal discomfort. This process is followed after the fertilization of eggs is done in a constructive environment. After 5-6 days of embryo development (fertilization), it is implanted in the woman's uterus and the next process comes up, which is known as embryo transfer.
Trust Dr Gajendra Singh Tomar,
MBBS, MD (Gynaecologist and Obstetrician) , Indore Infertility Clinic, Indore to complete the IVF process expertly and with compassion.
c) IVF Stimulation
Dr. Gajendra Singh Tomar is a fertility consultant at CHL hospital treating patients with low AMH, or Anti-Mullerian hormone.
AGM testing is basically done for women who are over 37 years of age and there are very few healthy eggs left in both the ovaries.
Dr. Tomar has an overall experience of 18+ years in Obstetrics and Gynaecology and Infertility Management and has helped thousands of couples realize their dream of parenthood via IVF.
Apart from excelling at handling a wide range of infertility cases, his areas of focus also include PCOS and other multiple IVF failures.
d) High Risk Pregnancies
A high-risk pregnancy is one with potential complications that could affect the mother, the baby, or both. High-risk pregnancies require a maternal-fetal medicine specialist to ensure the safety and a happy outcome for both the mother and baby.
One such renowned doctor for high-risk pregnancy is Dr. Gajendra Singh Tomar from Indore. A Maternal-Fetal treatment expert monitors the growth & development; predicts, detects, and manages any complications; and treats congenital disorders & anomalies in the womb itself.
e) Surrogacy Doctor in Indore
With a high success rate, Dr. Gajendra Singh Tomar is helping many patients to conceive by surrogacy. The surrogacy program followed by surrogacy specialist Dr. Gajendra Singh Tomar in Indore covers the medical, legal, and emotional aspects of the whole process.
f) Obstetrics Expert Doctor, Indore
Dr. Gajendra Singh Tomar is a talented and determined obstetrician. Obstetrics doctors are the ones who provide care to pregnant women and unborn babies during the full period of pregnancy. He also provides therapies to get the women pregnant in case of Infertility.
Dr. Gajendra Singh Tomar is also a trained obestrian to handle complications during delivery, such as :
Signs of fetal distress
Ectopic pregnancy
Placenta issues like preeclampsia and placenta previa
Delivery through C- section.
He has also fulfilled the lives of several patients in metro cities by using his expertise and best treatment plan for infertility.
Dr. Gajendra Singh Tomar's Past Experiences
Dr. Gajendra Singh Tomar is one of the pioneer doctors who is a believer of ethical practices, and has successfully treated hundreds of childless couples. He has been very active in his last days, by practicing his own knowledge and skill of treating Infertility couples with IVF back in 2013 under the name of ManipalAnkur, in CHL Hospital.
Later, in 2016 , he started his own clinic named Indore Infertility Clinic. There he has a team of embryologists, IVF nurses, and OT technicians.
Dr. Gajendra Singh Tomar,an expert IVF specialist, is dedicated to offering the patient's well-being, satisfaction, and needs with the utmost care and protection.
Best Advice from our IVF Specialist-Dr. Gajendra Singh Tomar
If you're under 30 years old and have been actively trying to conceive for a few months without success, make an appointment as soon as possible without delay.
If you're over 30, wait only six months before getting help from a specialized infertility doctor.
Dr. Gajendra Singh Tomar, Nobel 'thoughts
Being from a middle-class family , he always believes that money is hard-earned and can understand the pain and pressure even for couples taking up this IVF treatment. He is a very down-to-earth human being and believes in keeping the IVF package rate at an affordable price.
His clinic also offers IVF loans with 0% EMI for those who need financial assistance.
He is the one who always invests in the latest technology to keep his IVF Lab and IVF Clinic handling adverse cases too with expertise.
He has a proficient team of doctors and Embryologists,who are well trained with decades of experience. His interest in teaching also led his clinic to be recognized by FOGSI (The Federation of Obstetric and Gynaecological Societies of India), which is a professional organization representing practitioners of obstetrics and gynecology.