Startup: Pink Woolf
Founders: Subodh Sharma & Stuti Sharma
Year it was founded: 2018
Where it is located: Greater Noida
Sector: Men's Grooming
Website URL: https://pinkwoolf.com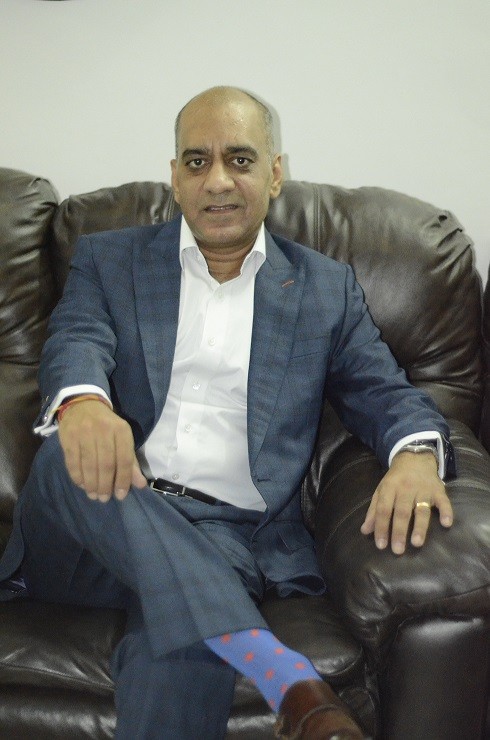 How did your journey start as a founder? What was that thing that triggered that you start your own thing?
In 2011, while sitting with friends the conversation turned to Alum or 'phitkari' and the use of simple tools for shaving instead of the quick & easy products.  That conversation planted a seed which ultimately took shape in 2017/ 2018.  Before starting Pink Woolf, we made a couple of mistakes that ultimately proved that 'do what you really like' works and hence the idea of Pink Woolf turned stronger & stronger.
Did you work anywhere in the company or institution before starting your own thing? How was the experience of working there?
I worked for 22 years in various leadership capacities at ITES firms in India/ US.  Traveled extensively throughout the world and worked in Operations, Business Development, Six Sigma, and Solution Design.  The experience was great as I worked with several amazing individuals who have been great mentors.  It is possible to work with an entrepreneurial mindset in a company however you are always somewhat protected as it is someone else's money that is involved.
So without wasting much time, let us know about your dream and how you are making it a reality as a startup?
Our dream is to make a Consumer Product company focused on providing superior shaving & skin care products for men.  Over a decade we used & researched world class shaving products.  Its then we realized that high-quality products aren't available in the Indian market and there is a gap & and an ever-increasing need from the customers as well.  Hence our offering is more of a need-based product which customers don't realize yet, without using.
We plan to cover two objectives with Pink Woolf:
Create awareness in men's lives of world-class shaving products and
The market does not have these products and we plan to fill this gap.
How did you realize that you should start this thing? Was there a specific pain point you recognized?
After living in the US for five years, we returned to India in 2017 and I realized that good shaving products weren't simply available or made in India.  After a few months of research, we felt that there are a market and a need to create products that are world-class and Made in India.  The aspirational Indian man wants quality products that are excellent in product functionality, packaging, and ease of use.  Packaging for us continues to be a pain point as pointed out by some of our patrons as well and we will continue to work with the best that we can offer.
Did you start it on your own or there are other co-founders working with you?
My wife, Stuti Sharma, who is an accomplished entrepreneur is my co-founder.
How, do you think, your startup is making the world a better place to live?
We feel that men essentially do not care too much for their skin and especially their shaving routines.  Our products contain ingredients that enable men to slow down some of the effects of aging, are anti-oxidants, and provide superior moisturization.  On top of all this, we actually propagate a shaving/ skin care routine that when used correctly provides excellent results over a few weeks.  One of the other lessons we learned is that men don't necessarily engage in learning to take care of their skin or learning the correct techniques of shaving, hence we provide educational articles and videos.
Using good quality products has a subconscious effect on the skin by making it supple, preventing signs of aging, comfort, and vibrant thus boosting confidence.  In the end, I can say 'Pink Woolf products can boost your confidence' by enhancing your skin quality.
What is your vision regarding your startup? What is the end game here?
Our vision is to become a superior quality skin care and shaving consumer product company for men and create products that are highly functional, simple to use, and differentiated by skin type.
Our vision is not to be lost in the crowd, we want to create products that are meaningful e.g. aftershave products by skin type.  We want to create products that people are thinking in their subconscious mind but are not available in the market, e.g. our aftershave products are differentiated according to skin type and contain moisturizers.
Similarly, our shaving soap & cream is filled with essential oils that help moisturize the skin.  It contains as much as 50% moisturizer that helps keep the skin moisturized through the entire day.
No end game as far as an end game is concerned.  This is just the beginning to create desired & superior products.
Have you been funded?
We are boot-strapped and we plan to grow slowly & steadily.  However, we do welcome strategic investment that helps grow this niche.
What are things to be kept in mind to land a potential investor?
We are focused on brand building as we believe a lot of Investor interest gets piqued when they hear a consistent language of the brand.  The other thing is 'Proof of Concept' which is currently underway with our products.
What is the best marketing and customer acquisition strategy according to you?
A lot of our repeat customers have come back as we established a meaningful relationship with them, engaged them through various forums and listened to what they said.  We may not be able to implement all of their feedback but as far as possible, will do so in the next round.
One advice you would like to share with aspiring entrepreneurs.
Have firm belief in your concept from the bottom of your heart.  Have patience, persistence, and eliminate every negative news, person, event from your life.  Stay the course.
What is leadership according to you?
The ability to get others to see your Vision, embrace it as their own, and deliver as if they made it.
How much percentage of the targeted user have you been able to achieve?
This is still work in progress as we have just gone live in end September.
What is your next strategy to attract more traction?
We are looking at a few events and strategic partnerships that we will announce soon.
Will you be broadening your target audience or the customer segments any time soon?
Yes, we will be.  We want to reach a situation where the woman starts stealing the man's grooming products as they are better & effective compared to the women products
How will you put your startup journey in a metaphor?
More like racing an F1 car on a race track.  You can drive slow, carefully, not crash and complete the race OR you can drive fast, risk crashing and win.
What were the high and the low points of this journey?
The lowest point was in getting the desired product quality, especially for the shaving soap and cream.  We met several suppliers, went through multiple samples, and the required world-class quality just wasn't forthcoming.  However, two of our suppliers understood what we were trying to develop and worked with us all the way as they were the one to who believed in our idea and are willing to improve their quality with us.
The first high point consequently was getting the products made according to what we had in mind.
The second high point was a review posted in Reddit from our first customer who has traveled extensively and used international products.  He praised the shaving soap as 'the best available in India' that met the exact requirements of product functionality, fragrance, and after effect.
Do you think there is an employment crisis in the country?
"JahanChahWahanRaah".  There are ample opportunities out there, you just have to look for them.  There are examples of innovative entrepreneurs in the marketplace who were unemployed but had a vision and tenacity.  There's more of an entitlement mentality that is not unique to India, it happens everywhere.
Entrepreneurship will enable India to rise again.
How entrepreneurship can benefit the employment situation in India?
Entrepreneurship will always provide support to the employment situation directly and through ancillary services hence nurturing them is key to solving the employment situation.
When should one go for funding and capital investors?
We have been bootstrapped and plan to be that way for some time.  I feel that when you have proved your concept, customers are talking about your products in forums, and you've reached a certain level of stability may be the time to approach investors to help scale up.
Are innovation and creativity that essential for a startup?
Yes, it is essential that your product or service is perceived as unique and differentiated compared to others in the market.  This cannot happen if you offer the same product in the same way.  You have to carefully look at your product and innovate around 'what the customer wants'.  As an example, our shaving soap has space at the top that allows the brush to load & apply lather to your face.  Else, you are looking at overflowing lather all over the sink while shaving.  Our aftershave products are carefully made for different skin types like normal, sensitive, dry, and oily.  We used different ingredients for each skin type after we received feedback from our pilot customers.
What is innovation and creativity for you?
The ability to see a problem and find a solution from the end customer's standpoint. This allows the customer to spend more time appreciating the product rather than complaining about what doesn't work.
What qualities and skills do you look for when you hire someone?
Our future team members should have
Unstinted belief in the idea, and
Blind passion but pragmatic implementation
We also look for an ability to continuously improve the current situation.  This enables all of us to continue working towards our objective.
Should there be organizational politics in a start-up?
No, a flat structure works best as everyone is capable of doing every job.
Can entrepreneurship be THE solution to eliminate organizational politics?
A certain level of organizational politics is always going to be there and as long as the vested interests of a few individuals does not overshadow the organization's objectives its fine.  In terms of management, Entrepreneurship vs. a long-standing large corporation are the opposite ends of the spectrum and both have pros & cons.  In an organization's evolution, after a certain scale, you do need a 'command & control' structure however entrepreneurship can still flourish under several departments.
What is the best management strategy to increase employee effectiveness and satisfaction?
Have clear objectives, celebrate the wins, listen to the employees, and act upon their valid suggestions.
How do you maintain a culture of innovation in the organization?
By being open to ideas.  However, the founder has to draw a line in time spent in generating innovative ideas vs. maintaining profitability as each of them requires time.
Do you think mental wellbeing and stress management should be a focus of the
organization?
Yes, but not at the cost of the organization's objectives.
What does it take to be an entrepreneur?
A different mindset from an employee is required.  You need to have patience, persistence and eliminate every negative news, person, event from your life.  Stay the course.  Be humble yet aggressive.
How much do you think networking is important to be a successful entrepreneur?
It definitely helps as the more people you have who talk about you, or want to work with you the better it is.  These people become your ambassadors and talk about you with their network thus helping you.
Does the start-up ecosystem has a bright future in India?
A lot has changed in the last few years with the Government actively promoting and supporting startups and innovation through various schemes.  This sends a clear signal to everyone that the ecosystem for startups is here to stay & prosper.
Culturally as well the society has begun to accept startups and entrepreneurship as a viable career option (not that the determined entrepreneurs care much).
What changes need to be done in elementary education to foster entrepreneurship
tendency?
Sharing success stories of all kinds of entrepreneurs – large, medium, small, and even the ones who failed and why they failed will help.  These stories need to be across various industries.  Also, have school-level competitions where children are encouraged to come up with entrepreneurship ideas.
What is the next big thing in the start-up ecosystem?
We feel there will be a convergence and collaborations the likes of which we haven't seen.  There will be a thin line between technology and products that will allow the customer to make a well-informed choice.