Startup: Aquarians Digital Agency
Founders: Chandrakant Sharma
The year it was founded: 2018
Where it is located: Hyderabad
Sector: Marketing/ Advertising/ Franchising
Website URL: www.aquariandigitals.com
How did your journey start as a founder? What was that thing that triggered that you start
your own thing?
Ans: This is the dream I have for as long as I may know it, to create something that will be there even after am not. Like sowing a seed that will grow into a big tree one day even if am not there to see it. So after leaving the job & corporate life behind & coming back to my hometown, I was left with only 2 choices either to start over again in some job or start something of my own & hence Aquarians Digital Agency comes into existence.
Did you work anywhere in the company or institution before starting your own thing? How
was the experience of working there?
Ans: Well I have started my career as a Jr. sales executive in one of the manufacturing firms & worked for 4 years with them after 4 years got an opportunity with HDFC but that stint lasted only 7 months. Then got into the hospitality industry & worked with Sun Facilities, Forbes Facility, Premier shield security services in the next 7 years of my career. Every time I changed my company I have got an opportunity to work in a new industry domain. And that had helped me a lot in my learning of the businesses & processes that allowed me to start my own business.
So without wasting much time, let us know about your dream and how you are making it a reality as a start-up?
Ans: Well it's really too early to predict anything but my dream is to make this agency the no.1 in the world by providing services to every business possible from international conglomerates to a local vendor in a small town in India. As we are situated in Bhandara city of Maharashtra a small-time town in the state my dream is to create a digital footprint of every kind of business that is existing in the economy to make it available to the global market that helps them in generating revenue & increase their sales & contribute into the nation's economy.
How did you realize that you should start this thing? Was there a specific pain point you recognized?
Ans: Well there is nothing like a pain point that triggered me to start this venture of ours. It was simply just an idea that had helped me in visualizing a day when every individual has a digital footprint so formidable that one simply cannot shy away from it. This has happened for individuals but businesses are still not doing it properly & losing a big share of businesses. I want to stop that kind of business loss.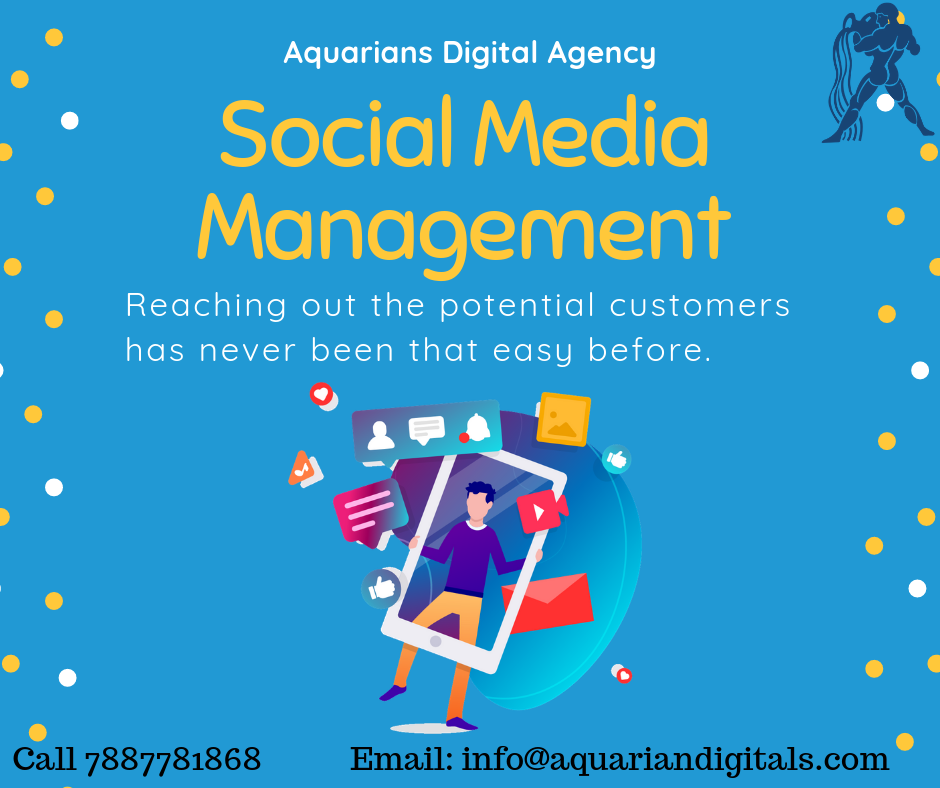 Did you start it on your own or there are other co-founders working with you?
Ans: always had the support of the family, friends.
How, do you think, your startup is making the world a better place to live?
Ans: Well we can answer this question down the line 4-5 years from now, we have just started & made all kind of business online, small Kirana shop, a cloth merchant, connecting manufacturers directly to buyers reducing the additional cost of wholesalers, distributors, etc. At present we are building our base by helping businesses go online.
What is your vision regarding your startup? What is the end game here?
Ans: with time the consumption of information has changed for us. Initially, we were dependent on the information from a single source i.e. word of mouth, later comes the newspaper, then radio, then television & now the internet. With the advent of every new medium of consumption of information our pattern of getting, analyzing & consuming has changed. So our vision is to make knowledge available to everyone to get it, analyze it & use it for their benefits & if we can help them out into that we'll be more than happy.
Have you been funded?
Ans: So far the complete funding is on our own & we have not sought any funding so far. & if we were lucky enough to raise ourselves to the occasions we'll scale it out big.
What are things to be kept in mind to land a potential investor??
Ans: The main thing is the profitability, profitability is the key that can open up any investor for your start-up. If you can showcase the good profitability of your business model with its practical applicability of your business model in the market you can get your funding.
What is the best marketing and customer acquisition strategy according to you?
Ans: Provide them the solution than the product or services. We have created basic packages of our services but we customize them according to the needs of the businesses we offer to. That's the key to our success. We believe that every business is different, similar to its owners as every individual is different. We customize our services to the needs of the clients of our clients. In a sense, we are catering to the next sub-levels of clients in order to serve our immediate clients. Be detailed in your process, the detail is the key to get everything right in the first time this saves time & costs both immensely.
One piece of advice you would like to share with aspiring entrepreneurs.
Ans: Focus on creating a solution rather than a product/service. There are 1000s of start-up erupts in India every year but only a few hundred remain operation as time goes by let's say 5 years from the date of inception. Out of those 1000's of startup many has similar product or services but those who are successful startups remained you can find one thing in their DNA that they focused on the solutions providing rather than products/services to their clients.
What is leadership according to you?
Ans: Leadership is taking a group of people together and work with them in building a dream that they all have seen in their eyes & showcasing to them how they could also achieve what they dream of. Being a leader is moreover a responsibility than anything else, it's a responsibility of the team, of business, of your business partners, it is a responsibility of fulfillment of the dreams of all these peoples.
How much percentage of the targeted user have you been able to achieve?
Ans: At present, our conversion rate is a little low it around 25-30% we are working on making it reach around 60-70% in the next few years.
What is your next strategy to attract more traction?
Creating some more solutions pertaining to the nature & scale of the business, reaching out to more prospects & outperforming the KPI's for existing clients. Creating more credibility in the market & helping out more businesses to grow.
Will you be broadening your target audience or the customer segments any time soon?
We already have quite a large targeted audience group we have been catering to a small shop in the local market to international business consultants. We cannot broaden more than that but now the focus is on the maintenance of the quality of services we offer to our client. We should be ensuring an international consultant's service level & a local shop's service level should be equal. No variances in the quality of service are tolerated.
How will you put your startup the journey in a metaphor?
There is an old proverb "if you want to go fast walk alone if you want to go far walk with others", at present we are walking with many many people around us so we are here to walk for distance and long time.
What were the high and the low points of this journey?
Its been only a year so we cannot comprehend that much but yes this is an exciting journey on which we had ventured out & would love to see what highs & lows we have to go thru while fulfilling this journey.
Do you think there is an employment crisis in the country?
IF you are asking for govt. jobs employment then the answer is yes, but if you are talking about employment, in general, the answer is straight no, there is no crisis of employment in India. It is just that we have been taught from day one of our life that study hard gets good grades to do engg. Or medical get a well-paid job get married and you know the drill of Indian parents…. We are never taught to question notions we are always taught to obey the rules (though nobody does) obey the elders their decision. So we are stuck in a constant loop like the karma cycle in Hindu mythologies.
Those who are skilled and are willing to work find it easy to have the job, but some of today's youth don't want to go into the grind of the system to come a top and become a learned individual. Coz our education system is only imparting theoretical skills not the practical market required skills to students& that's the major reason in between the gaps of employment generation.
Our banking sector in the overburdened & under-recruited sector, every year lacs of individuals give examinations but a mere few were selected, this shows the truth of the employment crisis.
What can be done to remove these skill and employment gaps?
Skill India Initiative is a prime example of what is to be-be done but unfortunately, people had made these Nobel ventures of govt. into money-making machinery. Just to get a grant from govt. peoples are starting the institutes and provide courses without setting up the parameters & designed curriculum. Govt should design a curriculum for such technical training institutes & should ensure that all the requirements for the fulfilling of the course should be such that, the individual who is learning those skills should showcase those skill in an internship in live market scenarios.
How entrepreneurship can benefit the employment situation in India?
It can help in multiple levels it can help in generating employment, it can help in the growth of the economy, it can help I creating a healthy competition into the market hence lower pricing, improved service quality & much more.
Do you need to be the special one to launch your start-up?
Not really all you have to have is a vision, a solution & a will with a persistent attitude for achieving success. With this quality, you can achieve anything.
When should one go for funding and capital investors?
That depends on the businesses themselves some might think at the start some might think when they want to expand, some might never go for funding or investor, so it is mostly a personal choice of the entrepreneurs. But whenever one should decide to get funding then they should be prepared for additional responsibility that comes with it & the guidance of the experts in the industry always helps.
Are innovation and creativity that essential for a startup?
Indian population is already much innovative & creative, all they require is the opportunity to express that. We have a solution for every issue every problem even if it is not ours but we have the solution to it. So answer to your question is yes it is required you should be innovative enough to assess the problem & opportunity that lies within it & you should be creative enough to implement that solution you have created to 100% success.
What is innovation and creativity for you?
Innovation is finding a problem assessing it deriving a solution that resolves that issue. Creativity is implementing that solution to the 100% success to resolve that issue for which you have created a solution.
What qualities and skills do you look for when you hire someone?
He/she should be a smart worker & must be able to easily handle multitasking. Being a marketing agency & having various clients on our list we have to make too many hops & skips from one client to another to resolve the issue that they are facing so the individual who is able to do multitasking with 100% accuracy rate is the one quality that we obviously look for.
Should there be organizational politics in a start-up?
No organizational politics should not be there, healthy competition in work helps but politics hampers everyone involved in it along with the organization that has it.
Can entrepreneurship be THE solution to eliminate organizational politics?
I don't see that as the solution to organizational politics. Entrepreneurial capabilities can reduce it but cannot eliminate it. For the elimination of organizational politics, the organization should take steps to curb all kinds of it.
What is the best management strategy to increase employee effectiveness and satisfaction?
Every employee is worthy, this is our motto. Every single individual associated with us in the business process is worthy of the rights that he has and responsible for the duties they had. When an employee feels that he is not part of the organization's big picture he feels demotivated dejected and stops paying attention to details and hence the quality loss.
The only strategy which is successful that is making your employees part of the organization's big pictures.
How do you maintain a culture of innovation in the organization?
Keep the door open for coming in & keep the mind open to listening. If you have an environment where any individual can come up with the idea then you are having a well-nurtured system & well-dedicated employees. And keeping the mind open to listening allows you to get all kind of ideas & evaluate them on the parameters of your organization's services will help you
Do you think mental wellbeing and stress management should be a focus of the organization?
Yes, it is an important factor, a healthy employee would be giving 100% & we have a strict rule of late work or overtime. There is nothing like that in our organization.
What does it take to be an entrepreneur?
A problem, A will to find a solution, Persistence in implementing the solution, a vision & most of all a will to learn & evolve.
How much do you think networking is important to be a successful entrepreneur?
Well, you need the client's rights? Where they would be coming from? From the people you meet, talk or share information. Unless you do that you wouldn't be getting any businesses. So yes networking is important for an entrepreneur. I would suggest giving 80% of the time in networking for an entrepreneur once he/she had developed their product & services.
Does the start-up ecosystem has a bright future in India?
Definitely, Indian start-up culture is way better than any other in the world. As India is a densely populated country it has more numbers of people than the jobs & this results in the lower rate of competition in business which leads to higher pricing and so on. So India has the potential to build its own start-up success story that can be envied by the world. But the only thing is the executions of the ideas that India has.
What changes need to be done in elementary education to foster entrepreneurship tendency?
Indian society is an entrepreneurial society, from the early days we have been indulged in self-work like farming, pottery, etc. so the quality of time management, client servicing & negotiation skills are unbeatable. It's just that we have been pushing our next generation towards cushion jobs where we want them to be sitting in the ac room, and not putting the strain of building something of their own, fulfilling their dreams. We have made accepted, in a sense, that we cannot be the next Bill Gates, Or Warren Buffet or Azeem Premji you get the point right? Our system is teaching us of doing things not creating things this needs to change and once this radical change happens India will become a start-up giant.
What is the next big thing in the start-up ecosystem?
Artificial intelligence (AI) is the next big thing in the startup ecosystem. Many companies have already been using AI for business purposes & along with that data science is also there. Combining these two will give you immense exposure & possibilities in the near future.