Pratik Sinha is a Young Indian Entrepreneur and, The Founder & CEO of DigiTecholic, Inc. He is a Google AdWords Certified Professional and HubSpot Certified Email Marketing Specialist & much more. He has been honored as a Youngest Digital Marketing Expert by the National School of Internet Marketing in 2019.
Q1.- How Was Your Journey as a founder? What were the main things that triggered your start?
Ans.- I always had a dream to become the richest person since my childhood. When I was in college, I got introduced to the wonderful world of Digital Marketing. My entrepreneurial journey started in 2016 after working for one year in 2 MNC (American Express & Amazon) as a Digital Marketing Executives. In 2019, with a capital of ₹2000(US$25), I started my first budget-oriented tech venture DigiTecholic. In 2020, I registered its own business as a world-wide company known as DigiTecholic, Inc.
Q2.- How did you get the idea/concept for the business?
Ans.- One day, one of my best-friends (Mr. Suraj Kumar) told me about digital marketing careers & their futures. Then, I explored Google and saw many successful people. I read a lot of blogs, eBooks for in-depth knowledge. After 1 Year of Jobs as a Digital Marketing Executives, I learned the techniques & tricks of marketing on digital platforms. After doing research in the market, reading reviews of clients & talked to some IT Company owners. Most people are not happy with a traditional business. It's a great opportunity for every digital marketing influencer & freelancer, and then I thought, "why not provide service for digital marketing too?" Then I added this service to their company & hired hundreds of people as an internship program for giving this digital marketing services many more.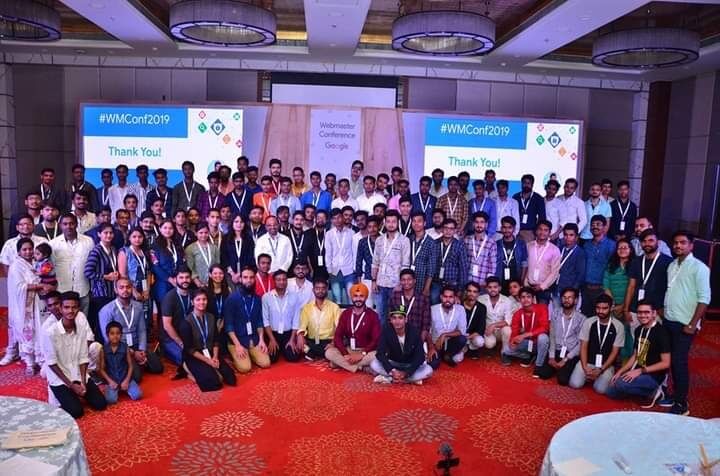 Q3.-How many employees?
Ans.- Most of the people are connected as co-partners on B2B modules. But, definitely, I have 13 employees as of February 2021. Also, I'm connected with more than 200 freelancers who are certified from Google & My Internship Programs. Actually, I partnered with some freelancers, and they get my projects done on time & very well.
Q4.- So, without wasting much time, let us know about your dream and how you are making it a reality as a startup?
Ans.- My startup (DigiTecholic, Inc.) expands to the US, Russia, and Europe after becoming the seventh largest IT company in India. Revenue of my company from the last years is more than ₹70 Lacs (7 million INR) then I can say, DigiTecholic has chalked out ambitious plans of becoming the world's largest IT companies in 2025.
Q5.- What Service(s) or product(s) do you offer?
Ans.- We provide all types of IT & digital marketing solutions(Like SEO, SMO, PPC, FB Ads, Web, Mobile Application, Software's, and much more) to startups, brands, celebrities, and politicians. We're known among the leading names of the entertainment and political industries for helping celebrities and politicians get verified on their social media handles. My company also provides services, including social media management, google knowledge graph, Wikipedia, PR coverage, brand promotion, and much more.
Q6.- What was the reaction from your family when you first decided to become an entrepreneur?
Ans.- Before starting the career in digital marketing, I prepared for the Civil Services Exam. It was very difficult for me to convince my parents at the beginning, but I was confident in myself and my work. I worked very hard day & night with my team for my success, and finally, my dream came true, and such a day has come.
Q7.- What was your biggest mistake in business, and what did you learn from it?
Ans.- Everyone learns from their mistake, and I have also learned a lot. I gave my 100% at the initial stage of our business towards the client's work, but lack of presentation came against me. Now I listen to all opinions & criticism and try my best to fix the loopholes. I'm still learning on the way & that's the best part about being in a startup; you always learn because learning never ends.
Q8.- Have you been funded?
Ans.- It's a self-funded company.
Q9.- How can entrepreneurship benefit the employment situation in India?
Ans.- Entrepreneurs are job creators. They not only make themselves employed, but they also have the potential to employ thousands or even millions of people through their enterprise. So, entrepreneurship development can play a vital role in solving this situation to a great extent; that's the reason I also believe in job creators, not job seekers.
Q10.- Do you need to be a special one to launch your startup?
Ans.- No. Anyone with a passion and a never-give-up attitude can build profitable enterprises.
Q11.- What qualities and skills do you look for when you hire someone?
Ans.- In my opinion– mission & vision, hard work, and work under pressure.
Q12.- What is leadership according to you?
Ans.- Leadership is both a research area and a practical skill encompassing the ability of an individual, group, or organization to "lead," influence, or guide other individuals, teams, or entire organizations.
Q13.- Do you need to be the special one to launch your startup?
Ans.- No, one just needs to be 100% Passionate about what they believe in.
Q14.- What does it take to be an entrepreneur?
Ans.- In my opinion-It was Mission & vision, hard work, and a positive attitude.
Q15.- What can be done to remove these skills and employment gaps?
Ans.- We need to focus on core areas of employment and skill acquisition.