Hey!! Do you want to start your DMCA ignored blogging or business website but don't know where to host it? Well, now worries!! Because here in this review, we will explain to you the best DCMA ignored hosting provider that assures you full privacy on the internet.
We have brought to you this review because similar to you, we were also looking for a solution to make our website live on the internet without losing our privacy or anonymity so that we can grow and run our website without any arbitrary interruptions!!
Hence we suggest you read its every paragraph carefully because everything explained in this review, whether its test results or features, is based on our personal experience so you can expect a genuine review!!
Let's get started!!
About QloudHost
QoudHost has been established with the aim of providing you with high-quality DMCA ignored hosting services that can respect your privacy and freedom of speech!! But you may argue why? See!! Normal web hosting service providers don't allow you to post your desired content on your website.
And if they found you doing so, they will immediately terminate your services!! But you will not face such situations if you host your website on DMCA ignored servers.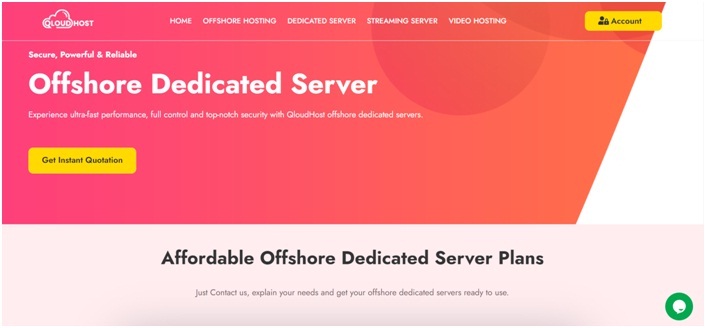 QloudHost Test and Analysis
After buying their services firstly we performed their server's performance tests so that we can understand whether they are providing genuine services or they are just claiming on their website.
Speed Test
The first we performed was our website's loading on GTMetrix which is one of the most popular speed testing platforms on the internet!!
Well, coming back to our test results, GTMetrix awarded our website an A grade rank with 99%performance, which is really impressive!! As you can see in the image attached below.
Note: Due to privacy issue we have hidden our website's details.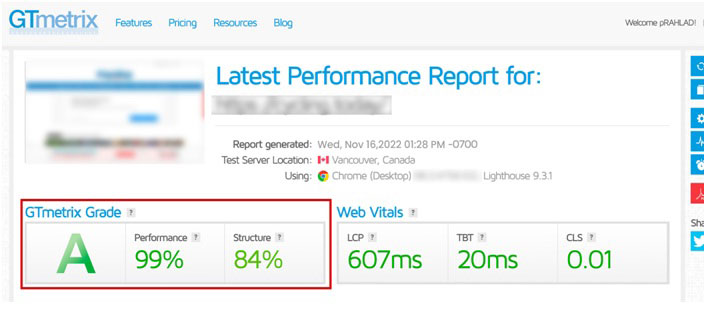 In addition to that, it found the first content paint in just 324 ms and the entire loading time was just 1.6 sec, isn't it amazing? Just imagine our website was loaded at the first blink of our eye!!
Hence, in terms of website loading speed definitely, QloudHost will be a good choice.
Security analysis
But as you know a speed test is not enough!! That's why here in this section we have mentioned some of its security features that will help you understand their server's security strength.
Full DDoS protection: If you're not aware of DDoS attack!! Its basically a rushed attack of fake users intended to dry up all your resources, such as bandwidth to crash down your website. But QloudHost provides you servers based on full DDoS protection!!
Firewall: One of the best parts about QloudHost is that they provide servers equipped with strong firewalls to protect your website against all kinds of cyber attacks.
Consistent backup: To ensure that your website is safe in all situations QloudHost provides you services with consistent backup so that they can restore your website in case any misfortune happens!!
Plans and Pricing
We have attached an image of their price and plans that will provide you with a better understanding of their service's worth.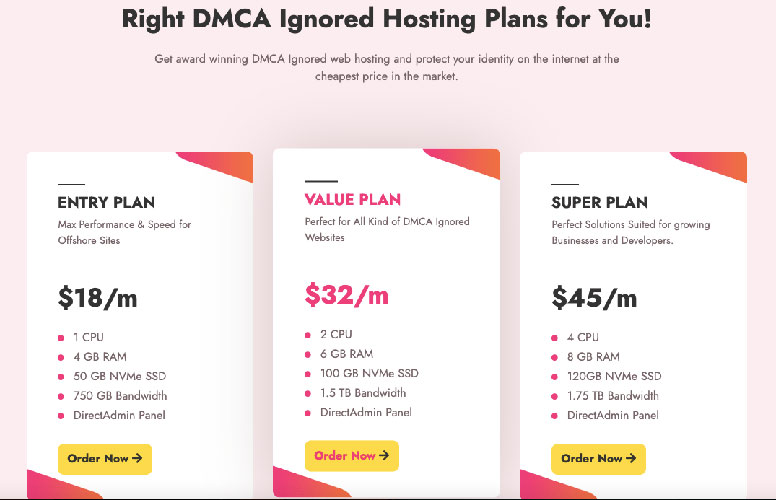 Key Features
Here are some of its key features that will provide you with an exact idea of the performance you will get to experience for your website.
100% DMCA ignored: QloudHost has built its servers on the best DMCA ignored location which is in the Netherlands so that you host your website without losing your anonymity.
Full privacy assurance: All thanks to their DMCA ignored servers they can guarantee your with full privacy on the internet.
Full content flexibility: QloudHost doesn't restrict with their content which means you can post all the DMCA ignored content on your website!!
Excellent customer support: QloudHost has built a dedicated team of technical experts that works 24*7 to support you at every stage of your journey and helps you to fix you errors in no time!!
QloudHost Pros and Cons
Well its features look really impressive, aren't they? But not everything can be greate hence we deeply analysed its services and found some its major pros and cons to understand the complete picture of its service's quality.
Pros
100% DMCA ignored
Fully privacy assurance
High security features
24*7 customer support
Cons
No call support
No shared hosting plans
Do We Recommend QloudHost?
Yes, if you are looking for the best DMCA ignored hosting provider that assures you fully privacy and freedom of speech, then QloudHost will be the best pick for you!! All thanks to their offshore servers located in the Netherlands.
In addition to that they have equipped their servers with high quality security features such as full DDoS protection, a strong firewall and much more to make your website's data security impenetrable on the internet.
FAQ's
Where is QloudHost server are Located?
QloudHost has located its servers in the best DMCA ignored country which is in the Netherlands, which is one of the best countries in the world!!
Does QloudHost offer Anonymous Server?
Yes, QloudHost does provides anonymous servers because, technically, there is no significant difference between anonymous and offshore servers.
Does QloudHost offer Free Domain Name?
Unfortunately, QloudHost does not provide you with any such services in which they offer you a domain because they minimise your identity visibility on the internet.
What plan should I choose if I'm beginner?
Basically, that completely depends upon your needs and requirements. For example, if you are planning to start your video streaming website, then you should choose their offshore video hosting. Likewise, you can a plan as per you needs.
Conclusion
Hopefully, you have understood everything required to understand their service's quality and reliability!! Hence we would like to end our review with an important note that we are using their services from last six months.
And we have not experienced any downtime!! That means you can expect unhindered performance for your website!!
The rest is up to you!! Make a wise decision.