Did you work anywhere in the company or institution before starting your own thing? How was the experience of working there?
Yes, I've worked as a content Writer for multiple agencies. I've worked as an SEO Manager for a bunch as well. I do client work all the time. The experience was good, I learned about work politics, how to manage funds, how to deal with a sudden holiday that employees take, how to keep your employees happy or basically how to manage a company effectively. Normally, if someone taught me all, they'd have changed a lot. It's always better to see practical than learning theory. Teach me all the swimming tricks, as long as I don't see you swimming, I am not going to use any of those.
So without wasting much time, let us know about your dream and how you are making it a reality as a startup?
My dream is to establish Scribbify a PR agency. I am turning into a reality by establishing it as a content marketing agency and growing it from there. We have tons of websites, and from next year, I am also going to focus on Social media. We're doing everything to grab control of a large chunk of people.
How, do you think, your startup is making the world a better place to live?
By shaping their vision. We help them make better decisions. Since we also do clients, we have helped countless startups get sales, exposure, and authority. Startups feel pretty helpless at times. We offer free consultations for startups and Educational Institutes. Our company is focused on helping startups grow and better shape the vision of the customer.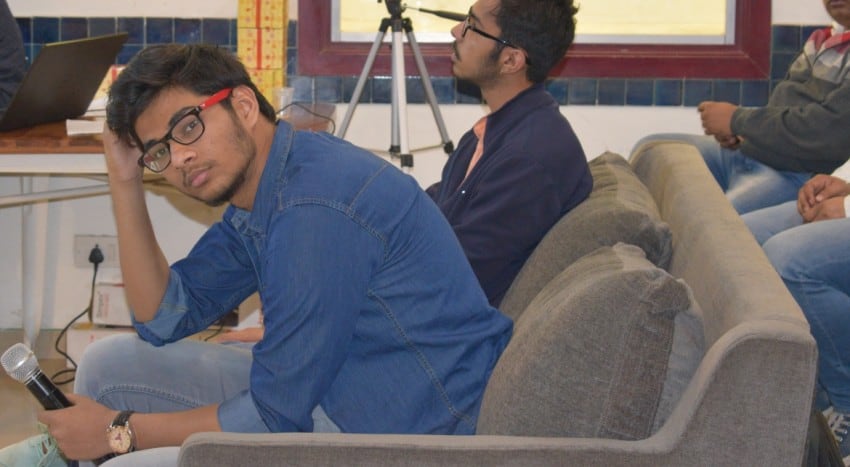 Have you been funded?
No, I bootstrapped everything. It was very hard and often nights reason for the panic attacks.
What is the best marketing and customer acquisition strategy according to you?
Doing the first gig for cheap, and over-deliver to wow the customer. Entrepreneurs have friends who are entrepreneurs. If you do a good job of a logo design in the first gig, the word is going to spread. Promise less, deliver more. The least resistance sales funnel is when someone is recommended to you from someone they trust.
What is leadership according to you?
For me, it is cutting down my own income to ensure my employees are happy. Every weekend I sit with my team to discuss what is going on in their mind. I talk individually with all of them often as well.
To be a leader is to put yourself and your needs behind your employees.
You empower them and make them believe that they are not employees but a team member.
Do you think there is an employment crisis in the country?
No. Neither I nor any other company will hire any untalented college kid with a degree that as less valuable than the paper it is printed on. If you have any level of monetary skill, you'll not be unemployed. We have tons and tons of companies, they have a vacancy as well. But when you have a flood of people trying to get govt. jobs, you can't claim we have an employment crisis.
Do you need to be a special one to launch your start-up?
Yes. Not in a negative way.
You need to have the mindset of a warrior.
There are going to be alone moments, times when people will stop calling when people won't pick your call when your bank balance will be 0 or maybe you'll go in a loan, things will seem to fall downhill, when you'll see betrayals and much more.
If you want to be an entrepreneur, be ready to experience the best and the worst.
How much do you think networking is important to be a successful entrepreneur?
A very big part of entrepreneurship is how many people you know. Suppose you are a logo design company. The more people you connect with, the more people know that you're doing logo work. Next time someone in that circle needs a logo made, they'll contact you first.
Networking is a critical part.
What does it take to be an entrepreneur?
A lot of patience, effort, and time.
It takes time to build anything, let alone a business.
You need to believe in yourself at times when no one does. You will have to focus on the big picture when no one sees the big picture.
You need a thick skin to go through the lows of entrepreneurship.
It's not like, I don't want to do 9 to 5 so I'll open a company. Running a business is more koas than having a 9 to 5.
Takes a lot of hard work, smart thinking, time, patience, self-trust, and coffee.