Pedestal fans have gained immense popularity after wall-mounted and ceiling fans among the users. Their quality for instant cooling rooms and efficient performance due to spacious structure make them perfect for every domicile across the country.
Pedestal fans are designed in such a way so that you can stay under the scorching summer seasons of India. With countless benefits, these portable, effective, fast-volume fans can deliver air to any space in the office or home. If you're also going to buy a pedestal fan for your household, you should consider numerous key factors. Here we discuss all: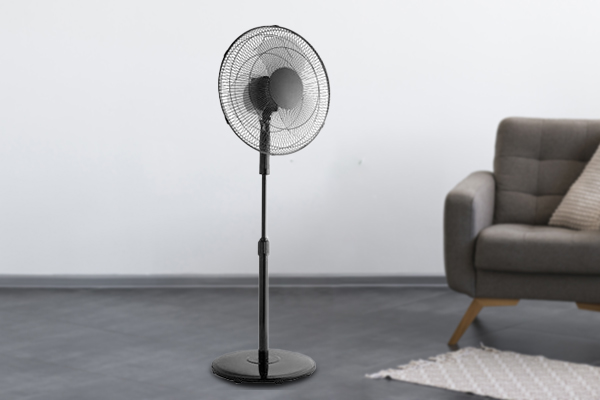 Air Flow
Ceiling fans are designed to be fixed in only one place, in contrast, pedestal fans offer better comfort as you will place them according to your needs. These fans are popular for their powerful airflow, which is the first important aspect to keep in mind while buying. Fan airflow is measured in CMM, which is known as cubic meters per minute. In simple words, the volume of air is given hard pressure per minute.
The more air the fan blows out, the stronger the air movement. Depending on the space of your home or office, CMM will vary.  For instance, a regular pedestal fan that can cover 60 to 100 CMM is an ideal choice for household use whereas a Farrata pedestal fan that can cover 3000 CMM is designed for large spaces, such as factories, industrial areas.
Fan's Speed
Like the ceiling fan, the pedestal fan has a speed setting option in which you can increase or decrease the airflow. Yes, the speed of a fan is another important aspect that you can measure by RPM or Rotations per Minute. The faster the fan rotates, the faster and cooler the fan's air will be. It is important to know that pedestal fans have two versions, including a fan with Normal Speed and a fan with High Speed. Pedestal fans with 1300 RPM are recommended for regular use as they blow air normally whereas fans with 2100 RPM will be best for larger areas as they give air at higher speeds. If you don't understand the actual RPM of the fan to be installed in your home, you can choose between 1300 to 1400 RPM.
Noiseless Operation
Pedestal fans that are heavier tend to create more noise, which doesn't suit your reading or learning case. So, you are forced to choose between noiseless operation and performance. To check whether the fan will make noise or not, it will accumulate by running at different speeds. Due to advanced technologies, some models of fans come with silencing features, making pedestal fans suitable for both day and night use.
Fan's Size
First of all, decide the place where you are going to place the pedestal fan. Next, check the height and sweep of the fan blades. The sweep height and size of the pedestal fan should be suited to the location where you place it. Room size and fan size are equally important when it comes to transporting airflow. If your room is large, you need to adjust the height of the fan accordingly so that it can circulate air throughout the room.
Construction
The stronger the material the fan is made of, the more durability you get. The fan can be made of either plastic or metal. Plastic fans are also lighter, making the fan spin faster and easier to move to another place where a metal fan is more durable and sturdier.
Final Words:
Hopefully, this shopping guide will help you choose the best one among all the options available in the market.