Mr. Manish Sharma, founder of Yamasha venture limited and Vlive India private limited is no doubt one of the most popular business magnets of the country.
After being the young entrepreneur by CNBC, investing in lots of start ups and running his own companies, this man is still seem to be grounded and down to earth which is rare nowadays. So here's some facts about the young inspiration.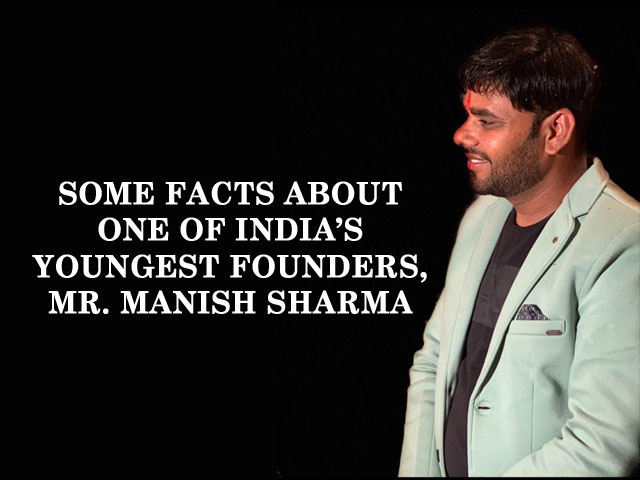 Family : Mr. Manish Sharma belongs to a traditional marwadi join family from Jaipur. His father is a known face into hospitality business and Mr. Sharma learned basic entrepreneur skills and accounting by his father only. His mother is a home maker but yet interested in business and she keeps giving her wise advice to the family in terms of business. Couple of members in family are also active in politics as well. The most amazing thing about the family is that even after lots of differences, there is unity and love between each and every member.
Personality and interests : Mr. Manish Sharma always had the urge to become a strong businessman. Also we might see him in Indian politics in couple of years.
Mr. Sharma is not only running his own ventures successfully but also helping beginners in business is one of his dreams. Recently he is finding more than a dozen startups and helping them to grow.
Besides this Mr. Sharma often donate money for good cost. The reason behind it is his strong believe in the Indian goddess. He believes that if we spend even 1% of our earning for others, god will definitely give you 100 times more.
Except all these things the young business magnet is also interested in cricket and watching movies in his free time.
Location : well at the age of 28, Mr. Manish Sharma became one of the most successful founders of India. Because of all the amazing qualities he comes in the list of India's most eligible bachelor.
Since he is running more than one ventures at the same time and also funding other startups as well, he keeps travelling around the globe. Mainly he keeps travelling between Jaipur, Delhi, Mumbai and Ahmedabad in India and China, Australia and Dubai as well.
Future goals : no doubt we could see Mr. Manish Sharma as an active politician in future as well as an Angel investor. According to him the love for the nation and family won't let him settle down out of India ever. Recently he is focusing on his biggest venture Yamasha and we are already seeing it going on top gradually. He will always be ready to serve the country and help other entrepreneurs.