In addition to eliminating dry dust and debris, a wet & dry vacuum cleaner is great for clearing wet spills and liquids from the floor. Instead of using bags, the vacuum cleaner makes use of two mechanisms that separate liquid spills from dry dust.
In addition, the vacuum cleaners come with replaceable brushes that are designed to clear both wet spills & dry dust effectively. If you have children and frequently spill things on rugs or other flat surfaces, a wet & dry vacuum cleaner is a good investment.
Features of Wet-Dry Vacuum Cleaner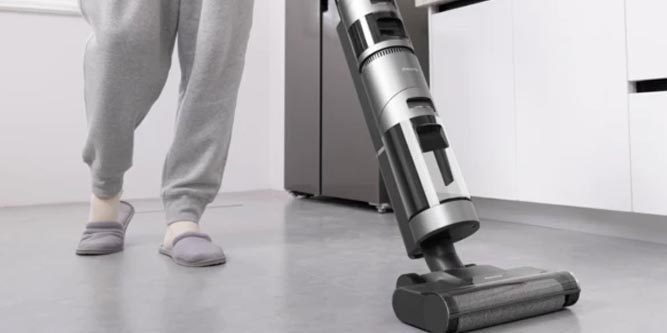 Fine particle filtration is available on the most powerful dry vacuums, making them ideal for cleaning in sensitive locations such as pharmaceutical processing factories, labs, hospitals, and other medical facilities.
When asbestos, lead dust, mold, and other hazardous contaminants need to be removed, abatement specialists turn to expert dry vacuums for the job.
In addition to attachments for vacuuming hardwood floors, many wet/dry vacuums may also be used as a conventional vacuum to clean upholstery and draperies.
If your toilet is running at full capacity and a pipe under the sink has burst, call a plumber immediately. A wet & dry vacuum is ideal for dealing with minor water leaks around the house.
Apply a moderate detergent to the carpet and vacuum it up to get rid of stains and other unwanted elements in it.
Pros of wet-dry vacuum cleaners
Relatively cheap
When comparing regular vacuums & shop vacuums, it can be difficult to draw comparisons because domestic vacuums are crafted with far more limitations However, the price range of good full wet-dry vacs on the low end is much less than comparable household vacuums.
Tackle wet messes
Cleaning up messes is easier when they're dry and not sticky, whether you're sweeping dusting, or vacuuming. Even so, not all messes are just like that, and some are sticky and difficult to clean up. Example: If your pet sheds and leaves behind puddles of water, you can use a shop-vac to remove both the water and the hair all at once, rather than waiting for the moisture to evaporate prior to removing the hair or wiping everything up at the same time.
Works like a pump
Instead of sucking air into the hose, the engine can be utilized to pressurize out of the hose. This is more efficient. In spite of the fact that it is ineffective for inflating bicycle or automobile tires, it can be beneficial for trying to blow up mattresses & pool toys.
Cons of wet-dry vacuum cleaners
Heavy in weight
With a wide range of applications and advantages, there is also a compromising element. The wet-dry vacuum has a significantly heavier weight than the remainder of the vacuum, making it unsuitable for tiny homes and other areas.
Can be smelly sometimes
It has been observed that when using a wet-dry vacuum to clean a stinky wet mess, such as a dog pee or any other type of wet leakage, the suction tends to become a little smelly as a result of this practice. This causes the collection chamber to become smelly as a result of the odor. It is recommended that you should use a disinfection attachment for your vacuum cleaner, which you should keep next to it.